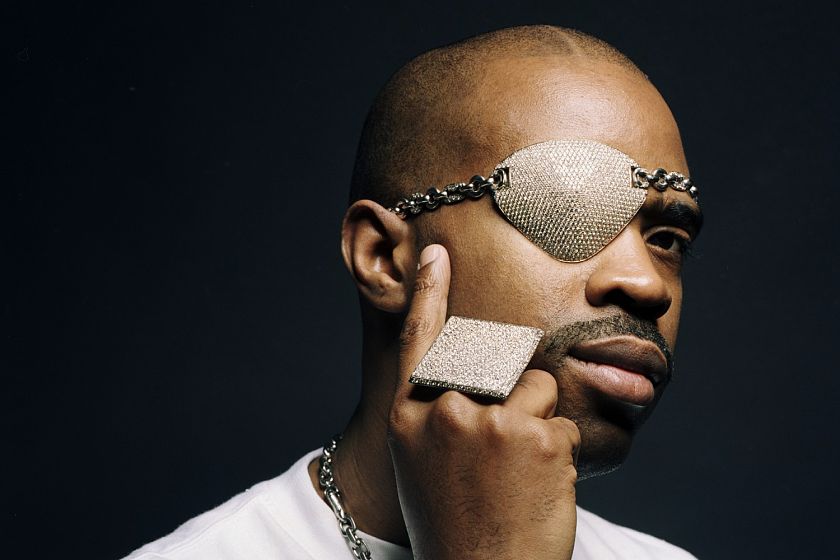 Slick Rick
Slick Rick
Renowned as "THE most sampled hip-hop artist in history" and "Hip-hop's greatest storyteller," Slick Rick has set the pace for rap's past, present, and future. Proudly donning his signature eyepatch, he has remained a rue hip-hop superhero for the art since his emergence. The icon has gone from humble beginnings in South London and The Bronx to performing at Carnegie Hall, lending his instantly recognizable image to an action figure by Super 7 Toys as well as a Mount Rushmore-style bust created by NTWRK selling out in thirty mins. The Smithsonian National Museum of African American History and Culture paid homage to him with a popular exhibition, and the Bronx Walk of Fame bears his name on a star as does a street in the borough. His legacy represents the confluence of elevated premier rap storytelling, fashion, jewelry, and philanthropy as well as the three cultures he proudly embodies—Jamaican, British, and American. Countless moments over the last three decades speak to his enduring influence, including a lyrical shoutout by Eminem, a mention by JAY-Z on NETFLIX's My Next Guest Needs No Introduction with David Letterman, a nod from Mark Ronson during a TED Talk, and an invite from Mariah Carey to duet at Radio City Music Hall and Madison Square
Garden and countless references by Nicki Minaj and J. Cole on their Top 10 singles. The Ruler's catalog, which
includes the iconic party anthems "La-Di-Da-Di" and "The Show," boasts over 850 samples, ranging from Snoop Dogg's "Lodi Dodi" from 1993's seminal Doggy Style through Jay Rock's GRAMMY® Award- winning "King's Dead" [feat. Future & Kendrick Lamar]. Noted as "the third artist signed to Def Jam Recordings" and "the most successful British-American rapper," his multiplatinum discography encompasses The Great Adventures of Slick Rick [1988], The Ruler's Back [1991], Behind Bars [1994], and The Art of Storytelling [1999]. VH-1 Hip Hop Honors celebrated him in 2008, and The Source ranked him among
the Top 3 of its "Top 50 Lyricists of All Time." Moreover, he has traded bars with everyone from JAY-Z, Drake, French Montana, OutKast to Raekwon & Ghostface, Mos Def, Missy Elliott, Busta Rhymes and Nas, appearing on a procession of classic albums and duetting with Macy Gray, Mariah Carey, and Aaliyah. For as wide as his musical influence is, he casts just as wide of a shadow over the world of fashion. He has not only headlined campaigns for MCM and NORDSTROM, but he has also joined forces with the likes of Supreme, Puma, Ballys, Urban Outfitters, Odd Sox, and ill-iOptics for collaborations. Moreover, he never stops giving back, he supports underserved and overlooked communities with his non-profit 501(c)3 organization, The Victory Patch Foundation, working with partners including FreshDirect, City Harvest, NYCHA, Department of Corrections and NYC Department of Community Development to support communities in need. YouTube selected him to mentor its Black Voices Music Class of 2022. He continues to shape the game, teaming with Lil Wayne and Method Man for collaborations in 2022 and penning forewords to books–Taschen Ice Cold: A Hip-
Hop Jewelry History and Fresh, Fly Fabulous for FIT. Kicking off yet another era, his visual album drops in 2023.
As a new chapter begins, Slick Rick is art now and forever.